LUXURY COTTON DRESSING GOWN KIMONOS FOR WOMEN AND MEN
A collection of beautifully light kimono dressing gown robes: hand-printed originl bold designs on 100% soft cotton
As featured in the major international TV shows

The adjustable inner waist ties and outer belt allow you to customise the robe to your unique body type. Whether you prefer a relaxed, loose-fitting style or a more fitted look, the robe adapts to your preferences, ensuring a perfect fit that exudes both comfort and elegance
Made from the finest 100% cotton and featuring a variety of beautiful designs, including floral, nature, and abstract prints, Susannah's cotton kimono robes are the perfect way to add a touch of luxury to your everyday routine.
Authentically crafted: timeless hand-printed designs
Discover the enduring beauty of our cotton yukata robes, featuring classic designs meticulously hand-printed using traditional techniques. Each robe is a testament to the craftsmanship of the artisans who carefully apply intricate patterns and vibrant colors to create timeless pieces.
Luxuriously lightweight cotton
Travel convenience with our lightweight, packable cotton robes. Made from 100% cotton for softness and breathability, Susannah robes pack compactly for any kind of travel.
Versatile Comfort: all-Occasion Cotton Robes
Our ultra-soft cotton robes transition from a morning routine to a leisurely evening, making them the perfect choice for lounging at home, relaxing at the spa, or enjoying a day at the beach
Limited-Edition Style: Our Signature Cotton Robes
Embrace the epitome of style and exclusivity with Susannah's signature cotton robes, featuring limited-edition prints that often sell out quickly.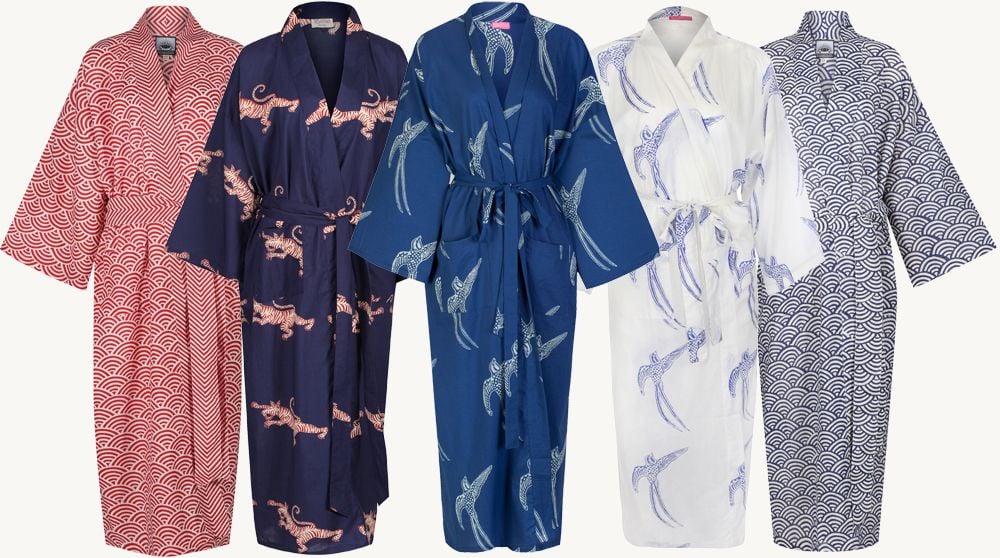 Susannah Cotton Kimono Robes
Traditional hand-block and screen-printing techniques are used to produce bold and classic designs on our cotton dressing gown yukata robes.
We have sold thousands of Susannah Robes worldwide and we also supply hotels and spas in beautiful places such as California, Tasmania, Greece and the South of France.
Susannah's kimono robes have been showcased in major international publications like The New York Times, The Independent, The Daily Telegraph and New York Magazine. They have also been featured in major national British and American TV shows, such as the BBC's smash hit "Trigger Point", ITV's "Murder in Paradise", the CBS production "Seal Team" and US TV drama "All American".
Iggy Pop, Jessica Paré, David Sedaris and Mary Portas are among the many celebrities who wear Susannah's signature kimono robes.

We want our gowns to represent all-inclusive values and to suit people of all ages. It is imporanat to us that all our customers feel uplifted and special every time they wear one.
Thank you so much for taking the time to visit our site. We really hope you like what you see!